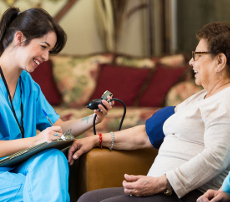 Paths to Health NM: Tools for Healthier Living offers several evidence-based prevention and self-management programs for individuals throughout New Mexico. For information about these programs, visit our Programs page.
What is the value of referring patients to Paths to Health NM programs?
They can prevent or reduce the risk of chronic health conditions and falls.
They train patients in self-management skills that complement the clinical care and disease-specific education delivered by healthcare professionals.
They allow patients to build the confidence and motivation needed to manage their own health.
They provide a gateway to additional community-based support services.
They have been extensively researched and provide documented health benefits.
How do I refer a patient?
Connecting your patient with prevention or self-management classes near them helps both your patient and your practice. Read More

Referrals are processed in a HIPAA-compliant environment using a centralized referral and feedback system, Workshop Wizard. Once a referral is made through Workshop Wizard, trained staff contact referred individuals by the end of the business day following their receipt. All contact attempts and conversations are noted. Feedback reports on contacts and enrollments are sent to the referring provider or entity on a regularly scheduled basis. Once enrolled, the referred individual has attendance, demographic information, weekly weigh-ins (NDPP), pre- and post-assessments (falls prevention) and satisfaction survey results tracked. Individual results and aggregate data are available to you as the referring individual.

Your patient receives support from an evidence-based curriculum geared toward building self-efficacy, problem-solving and self-management skills.

Your practice receives support in connecting to community-based organizations, a powerful non-medical educational curriculum that will support medical interventions, and a patient who understands the importance of setting and achieving self-management goals as a part of their total care plan.

Read Less